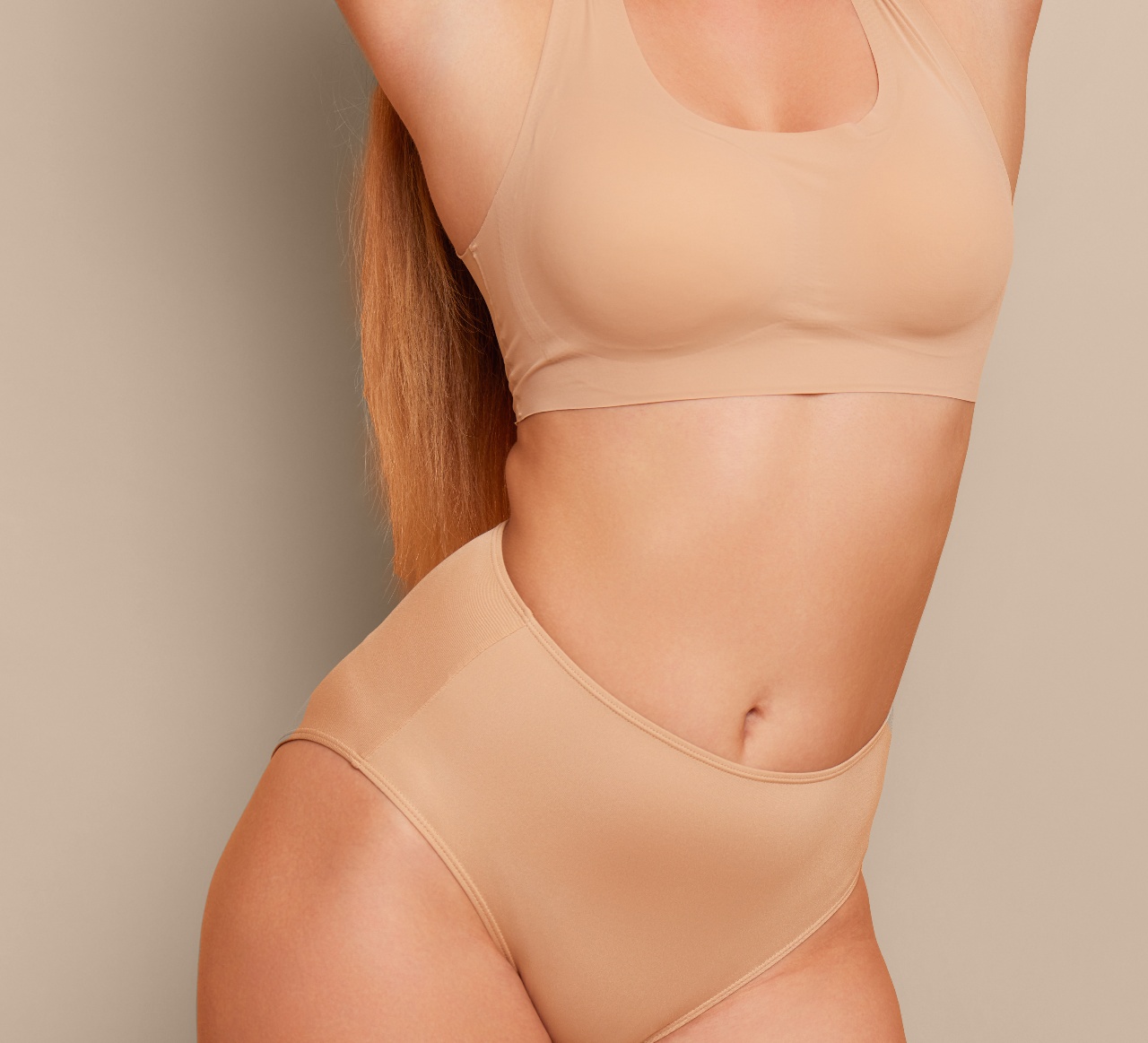 tightening procedures (various body parts)

Over time as well as after pregnancies and substantial weight loss, body tissue loses elasticity and visibly slackens. Classic problem areas are upper arms, stomach and thighs. A tightening procedure gently removes excess tissue, leaving as little scarring as possible. If necessary, the experienced specialists at Aesthea also combine tightening with liposuction, bringing your body back into the desired shape in a targeted and lasting manner.
Facts
DURATION

CLINIC STAY

COSTS

EXERCISE

After 5 to 6 weeks at the earliest

ANESTHESIA

FOLLOW-UP TREATMENT

Compression garment for approx. 6 weeks

FIT FOR WORK

After approx. 2 weeks; longer sick leave is generally necessary in case of heavy physical work
Frequently asked questions
FAQ
Frequently asked questions
Here you will find the answers to frequently asked questions.
If you do not find the answer to your question, please do not hesitate to contact us.
Can stretch marks be removed with a tummy tuck (abdominoplasty)?
This is possible, but only to a certain extent. More specifically, only those stretch marks located on the excess skin can be removed. Unfortunately, stretch marks above the navel region cannot be removed. These will however move further downwards as a result of the abdominoplasty, significantly improving the overall appearance.
What requirements must be fulfilled for a tummy tuck (abdominoplasty)?
You must be at least 18 years old.
You should be in good physical condition.
You must not be pregnant.
Planned weight loss should be completed prior to the tummy tuck, and severe weight fluctuations should also be avoided.
Is there a maximum age for a tummy tuck (abdominoplasty)?
There is usually no upper age limit for a tummy tuck (abdominoplasty). It is much more important that you are generally in good physical condition and have a certain "basic fitness".
Does any tightening of the abdominal muscles during a tummy tuck (abdominoplasty) affect mobility (e.g. during sports)?
In some cases, a tightening of the straight abdominal muscles is also performed as part of a tummy tuck (abdominoplasty). The stability of the lumbar spine is improved, which in many cases leads to relief from back pain. Around eight weeks after the operation, sports can and should be practiced again. In particular, abdominal exercises such as "sit-ups" are often easier than before, since the abdominal muscles that have moved apart are once again anatomically aligned.
What complications can occur with a tummy tuck (abdominoplasty)?
A tummy tuck (abdominoplasty) is a surgical procedure with a relatively low risk profile. Nevertheless, despite the highest quality standards, occasional complications can occur during or after the procedure. These are not exclusively related to the operation, but also to your individual health condition. For this reason, a specialized surgeon will advise you about any risks involved in a planned tummy tuck during your personal consultation.
Swelling and bruising after surgery are normal and usually heal on their own. In rare cases, secondary bleeding may occur, necessitating a follow-up-operation. An infected wound can be treated successfully with antibiotics.
Very rarely, wound healing disorders and infections occur in which the surgical suture drifts apart. This is usually related to impaired blood clotting or circulation, which can occur in diabetics or smokers, for example. In the case of a wound healing disorder, the scar can spread, which would have to be corrected surgically. During the preliminary in-person consultation, the specialized surgeon at Aesthea will discuss any risks with you personally.
As after any operation, there is always a risk of a blood clot (thrombosis) clogging the leg vessels. For this reason, you will be prescribed anticoagulant medication and advised to resume exercise as soon as possible after the operation. Moving around (without overexerting yourself) can greatly reduce the risk of thrombosis.
Will there remain visible scars?
A longer, pale scar running along the lower abdomen is unavoidable with a tummy tuck (abdominoplasty). However, the scar is usually relatively inconspicuous and, due to its location, can be well concealed by underwear or a bikini.
During your personal consultation at Aesthea, we will discuss all the details with you and mark the respective areas on your body in the form of contour lines. This allows you to look at all the discussed details again in the comfort of your own home.
What happens if I get pregnant again?
We would recommend that you wait to have a tummy tuck (abdominoplasty) if you are planning significant weight loss (dieting) or pregnancy in the foreseeable future, because this can critically affect the positive result of the procedure and require follow-up correction
Can I simply have liposuction instead of a tummy tuck (abdominoplasty)?
No, because liposuction only reduces the volume of fat, but does not provide the necessary tightening of the (excess) abdominal skin. However, liposuction can be combined as an accompanying measure to the tummy tuck for an ideal overall result.
Will my abdominal sensitivity be affected by the tummy tuck (abdominoplasty)?
After a tummy tuck, many patients report a change in sensitivity around the stomach. This altered sensitivity usually returns on its own after some time. Both reduced and unpleasantly increased sensitivity may occur. Permanent sensory disturbances on the other hand are extremely rare.
What happens if I gain weight again after a tummy tuck (abdominoplasty)?
The subcutaneous fat tissue that is removed during a tummy tuck (abdominoplasty) does not reform again. Nevertheless, new fat deposits can develop in other areas of the body, which would diminish the positive effect of the tummy tuck.
A beautiful, permanent result is more likely the more stable you can maintain your body weight. In case of a slight increase in weight, however, the long-term results will still be remarkable.
Should I lose weight before a tummy tuck (abdominoplasty)?
If you are overweight, you should lose weight with a healthy diet and exercise before the planned tummy tuck and achieve a healthy, stable weight. Of course, you can continue to lose weight even after the procedure. However, then this should only be done over a longer period of time, otherwise the positive result of a successful tummy tuck will be diminished.
What is a "diastasis recti"?
When the paired, straight abdominal muscle moves apart, it is called a "diastasis recti". This often occurs in women after pregnancy, in men due to a strong weight gain. A "diastasis recti" is felt as a more or less wide and clearly palpable gap in the middle of the abdomen when the muscle is tensed. Typical for a "diastasis recti" is a bulging abdomen (even if there is no excess weight), which is resistant even to intensive sports and dieting.
After the tummy tuck (abdominoplasty)
After the tummy tuck, you will wear compression pants or a compression bandage for six to eight weeks to ensure the best results from the surgery.
Immediately after the abdominoplasty, slight pain and bruising are normal, but these will subside within a few days to several weeks. Swelling of the affected areas may also occur during an abdominoplasty. Usually, these completely resolve within three months.
The stitches are removed 18 days after the abdominoplasty. Initially, the scars are still reddened, but these will gradually pale and adapt to its surrounding skin color over time.
You will hardly be affected in your well-being and mobility post-surgery. It is important to move again soon after an abdominoplasty to prevent swelling and thrombosis. However, we ask you to refrain from sports for about eight weeks. Likewise, massages and other excessive exertion should be avoided immediately after the operation. Cold showers, on the other hand, have a stimulating effect on the blood circulation and support the post-operative healing process. If possible, you should refrain from taking full baths for a few weeks.
What do I have to consider before a tummy tuck (abdominoplasty)?
We kindly ask that you remove any earrings or piercings. Any skin inflammations must be pre-treated before the operation. You can do the pre-treatment on your own without any problems under the guidance of your attending physician. We also ask you not to take any painkillers (e.g. aspirin) for 14 days before the operation, as these delay blood clotting, and if possible to avoid alcohol, sleeping pills, tanning booths and nicotine.
Is a tummy tuck (abdominoplasty) covered by health insurance?
As a general rule, health insurance does not cover the costs of a tummy tuck (abdominoplasty). In very rare cases, the health insurance company will contribute to the treatment costs of an abdominoplasty if there is an extreme excess of soft tissue on the abdomen after a severe weight loss.
What should I pay attention to immediately after a tummy tuck (abdominoplasty)?
After the tummy tuck (abdominoplasty) you will be prescribed pain medication, which you should take according to the instructions of your attending physician. For six to eight weeks, you will wear compression pants or a compression bandage. On the day after surgery or before discharge, your attending physician will advise you on the post-operative care at home.