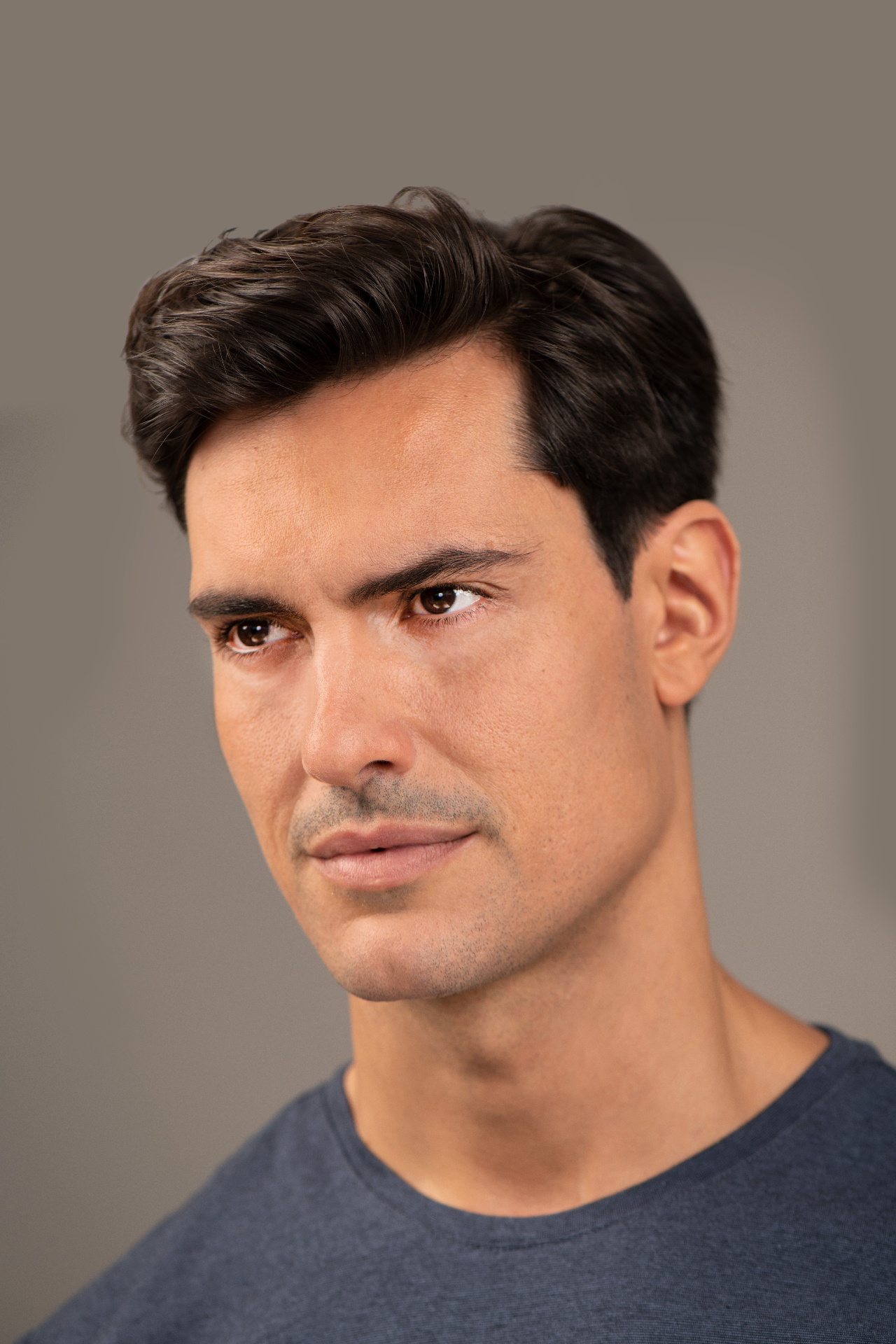 PRP for improved hair growth

There are unfortunately not many options to successfully stimulate hair growth. Injecting the body's own platelet-rich blood plasma (PRP) into the scalp has been established as an innovative and promising method against hair-loss for men and women!
Facts
DURATION

CLINIC STAY

COSTS

EXERCISE

ANESTHESIA

Twilight sleep or local anesthesia

FOLLOW-UP TREATMENT

PRESENTABLE
Good to know
In order to achieve optimum results, you will need three to six treatments every three to four weeks. First, 15-20 ml of your own blood will be extracted and centrifugalized, thus separating the solid elements from the liquid plasma. Then, the plasma will be injected into your scalp using a small syringe, stimulating the hair root. Note that your plasma is rich in platelets and other biologically active substances (such as stem cells, hormones and growth factors), which will have a positive impact on your hair root, promoting hair growth.
Observing a rigorous regime of treatments, you will start to see positive results after several weeks and months, resulting in visibly stronger and thicker hair – provided that the hair follicles are not already completely degraded.
Ideally, you should start treating hair loss with PRP early on – for stronger and thicker hair and for more self-confidence!
Frequently asked questions
FAQ
Frequently asked questions
Here you will find the answers to frequently asked questions.
If you do not find the answer to your question, please do not hesitate to contact us.
Is there any effective treatment for hair loss?
The question of the appropriate treatment for hair loss can be answered conclusively only on an individual basis and by analyzing the underlying cause of the hair loss. Central to any growth, however, is nutrient balance – and this is precisely where vampire facelifting (PRP therapy with autologous blood) against hair loss comes into play.
The abbreviation "PRP" stands for "Platelet Rich Plasma". At the beginning of the PRP therapy, blood is taken from you and medically prepared. Depending on how severe the alopecia or hair loss is, the patient's own blood is enriched with a 40% to 95% concentration of platelet rich plasma.
PRP therapy harnesses the regenerative power of stem cells in blood plasma. Please note that certain medications inhibit platelets. These include common medications such as aspirin, ibuprofen and other painkillers. For this reason, we ask you to refrain from taking these medications in the days leading up to the PRP therapy. This will help us ensure the maximum effectiveness of the PRP therapy.
Once the red blood cells are separated from the blood plasma, the PRP is injected into the areas of the scalp to be treated, where it stimulates local hair growth.
One advantage of PRP therapy with autologous blood is that it leaves no visible scars. It also entails no downtime, which lets you get back to your everyday life without any restrictions right after treatment.
When is PRP therapy not recommended for hair loss?
Normally, nothing stands in the way of PRP therapy, since it is an autologous blood treatment. Nevertheless, some exceptional situations do rule out PRP therapy – if you are pregnant, for example, or if your scalp is inflamed. There are also risks associated with certain autoimmune diseases, hepatitis, cancers and liver diseases. If you suffer from blood clotting disorders, PRP therapy may also be ruled out.
What can I expect from PRP therapy for hair loss?
Scientific studies have reported that about 70 to 80 percent of men and women respond to autologous blood treatment with the PRP method for hair loss. Hair density improved and itching decreased noticeably.
For best results, three to four treatments should be carried out at intervals of a few months. The earlier PRP therapy for hair loss begins, the more promising the results!